Idol Ranks are ranks that determine how good an idol is.
There are 5 ranks, "Student Idol", "Debut Idol", "Major Idol", "Top Idol", and finally "God Idol". There are also various sub ranks within each rank.
List of Idols Ranks
Edit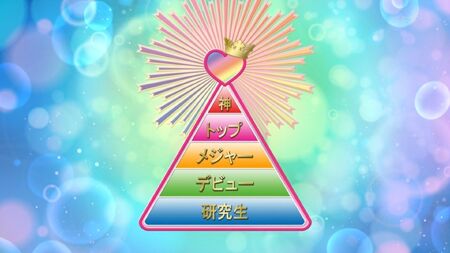 Divine (神アイドル, Kami Aidoru)
Top (トップ, Toppu)
Major (メジャー, Mejā)
Selective Idol (せんばつアイドル, Senpatsu Aidoru)
Super Busy Idol (おおいそがしアイドル, Ooisogashi Aidoru)
Idol on Demand (ひっぱりだこアイドル, Hipparidako Aidoru)
Famous Idol (ゆうめいアイドル, Yuumei Aidoru)
Familiar Idol (おなじみアイドル, Onajimi Aidoru)
Hottest Idol (うれっこアイドル, Urekko Aidoru)
Debut (デビュー, Debyū)
Verge of Big Break (ブレイクすんぜん, Bureiku Sunzen)
Decisive Idol (いちおしアイドル, Ichioshi Aidoru)
Idol of Interest (ちゅうもくのアイドル, Chuumoku no Aidoru)
Rookie Idol (しんじんアイドル, Shinjin Aidoru)
Promising Idol (きたいのアイドル, Kitai no Aidoru)
Idol Chick (ひよっこアイドル, Hiyokko Aidoru)
Student (研究生, Kenkyūsei)
Idol Egg (アイドルのたまご, Aidoru no Tamago)
Idol Gemstone (アイドルのげんせき, Aidoru no Genseki)
Twinkling Student (キラキラけんきゅうせい, Kirakira Kenkyūsei)
Persevering Student (がんばりけんきゅうせい, Ganbari Kenkyūsei)
Fledging Student (かけだしけんきゅうせい, Kakedashi Kenkyūsei)
Shining Student (ピカピカけんきゅうせい, Pikapika Kenkyūsei)
PriPara Debut (プリパラデビュー, Puripara Debyū)
Ad blocker interference detected!
Wikia is a free-to-use site that makes money from advertising. We have a modified experience for viewers using ad blockers

Wikia is not accessible if you've made further modifications. Remove the custom ad blocker rule(s) and the page will load as expected.